Category Archives:
Asia Travel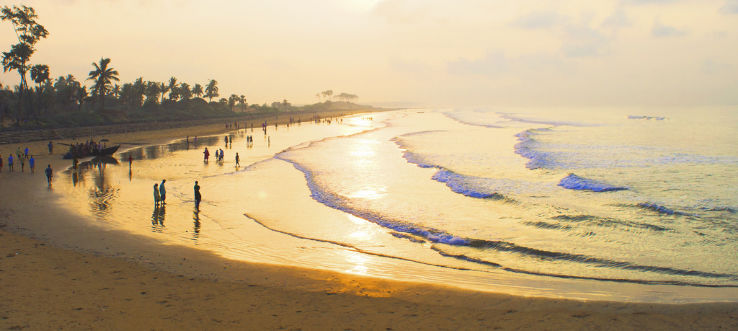 Digha evokes a myriad of feelings in the mind of a traveller. A town that is both chaotic and blissfully peaceful; a town that boasts of scenic surroundings, delectable cuisines, and warm hospitable people. And oh, the beaches! Who can forget the beaches here. Digha is known for the beautiful stretch of beaches that offer peace and solace to the tired mind. Lined with casuarina plantations along the coastline, Digha is the perfect getaway for those who want to unwind in peace away from the hustle and bustle of the noisy humdrum of the city life.
It is the perfect holiday that you can gift to yourself and your family. So what are you waiting for? Contact us for to curate an amazing Digha holiday and Digha hotel booking.
Digha is a quaint coastal town in the Purba Mednipur district in West Bengal. It is nestled at the northern end of picturesque Bay of Bengal. In fact the old Digha beach opens to the Bay of Bengal.
Digha has an interesting bit of history. Originally a place called Beerkul existed where Digha is today. It was referred to by Warren Hastings- the first governor general of India- as the Brighton of the East. In the early 1920s, an English business man John Frank Snaith started calling this place home. A good insight into the life and culture of Digha is provided through his writings. He loved this place so much that he convinced the then Chief Minister of West Bengal, Bidhan Chandra Roy to initiate development and convert it into a tourist spot. Thanks to his initiative, Digha started getting attention from the tourists, and now it has transformed into a beautiful tourist attraction.
Best time to visit Digha
Digha is unusually pleasant and scenic during the winters, thereby making it the best time to visit the place. If you plan a trip to Digha around October, you'd also be able to enjoy the famous Durga Puja of West Bengal. So anytime between October and March would be great for visiting this place.
So, what are the scenic spots that make Digha the coastal attraction you must visit?-New Digha beach
Located at a distance of just 2kms from its older counterpart, New Digha Beach is much cleaner, easy to reach, and relatively less crowded than the latter. Enjoy the alluring charm of the white frothy waves here, as you relax in the gentle sunlight. There are many water adventure activities if you are interested, but even otherwise it is a great place to come, relax, and unwind. Spend some time lazing in the sun and play hide and seek with the crabs as the wade their way through the sand. It is a nice place to spend your evenings leisurely.
Talaseri Beach
If you are a seeker of peace and tranquility and find bliss in solitude, then this is the beach you should definitely consider going. It is situated at a distance of 10kms from Digha and offers picturesque surroundings, scenic views, amidst unmatched peace and serenity. The name of this place is a combination of the words tala, that means rhythm, and sari that means row. The name symbolizes the noise the waves make as they kiss the sea shores and plantations lining it. This place offers inimitable views, and also a chance to try the local seafood that is sold here. The food is delectable, and if you are a seafood lover, you won't be disappointed. Try the crabs and fish here, freshly caught by the fishermen who live close by. Thank us later!
Marine Aquarium and Regional Centre
This is a great centre to understand the marine biodiversity and ecosystem. It houses the largest inbuilt aquarium in the country, and is home to sharks, sea snakes, and rays, amongst other resident and non-resident marine species. If you are visiting Digha with children, then there is no reason for you to not visit this place. But even if you don't have children, you should visit this place because it is like a Pandora's box for all knowledge related to the marine ecosystem.
Chandaneshwar Temple
Situated at a distance of approximately eight kilometers from Digha, this temple is
…